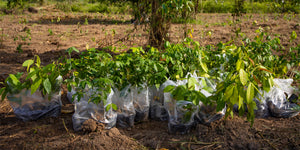 TO PLANT ONE MILLION TREES
Together we plant trees around the world, and are rebuilding natural habitats.
TREE by TREE
Together with our partners, we plant one tree for every item purchased. Together we plant trees and complete forests with vetted foundations and NGOs from around the world, and use blockchain technology to track every tree and its impact for total transparancy.
Our Story
Forest Project was started in late 2021 by a group of friends. It all started with the goal of making a global difference together. Today it's turned into, Forest Project, a global initiative to plant one trillion trees. Planting one tree for every bracelet purchased and allowing you to track your trees and their journey.
Project #1
Krabi, thailand
Forest Project partnered up with the Conserve Natural Forests team to plant its first forest! These guys are rockstars when it comes to reforestation, and have been around for years. Contribute to this project!